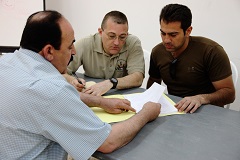 When you conjure up a mental picture of a professional IT sourcing advisory, what comes to mind? If you've never worked directly with IT consultants, you may not know what to expect, so your picture may be especially fuzzy.
Let's see if we can help bring your picture into sharp relief. With a clear picture in mind, you'll be able to find the IT sourcing advisory that represents the best fit for your organization and guidance needs.
Professional IT sourcing advisory looks like you.
Well, it should, at any rate. That's because the highest quality IT sourcing advisory should be entirely client-focused. Focused on your business goals, your daily IT operations, your budget, your people, your customers. Advice isn't valuable unless it's tailored to your unique circumstances.
Your enterprise may be very similar to another one of your advisor's past clients, or even several of them, and there's a tremendous learning advantage in that. But in the end, no other company has the same distinct goals and pressures as you do.
A consulting firm that looks like you won't try to fit you into pat formulas, plug-in templates or off-the-shelf solutions. And you won't find any vested interests hidden behind their recommendations.
Professional IT sourcing advisory looks like someone you'd like to know better.
Who wants advice from people they don't particularly like? Would you trust what they say or suggest? The better the personal fit between your team and your advisory team, the better working relationship you'll have right from the beginning of your project. When you're simpatico, you'll understand one another easily and develop better solutions together.
Professional IT sourcing advisory is the color of money.
The right consultants are money-conscious in two crucial ways:
They keep your budget and your bottom line in mind at all times as they're advising you on the best solutions or providers. They know every large enterprise needs to curb costs and optimize what they're spending, and they have your back on that. They'll help you negotiate the most cost-effective contracts, and they can help you review current agreements to see if you could do better.
They offer performance-based fees. Consulting isn't free, but the last thing you want is to rack up advisory expense without tangible, just-what-we-needed results. That's a potential risk with traditional hourly rates or even fixed project fees, but never when what you pay depends on what you get.
Professional IT sourcing advisory is a moving picture.
You want a consulting team that's agile and accommodating. You're the client, so your timeframe should be top priority, not theirs. Your advisory process should enable you to get in and get out with the answers you need as quickly as possible, so you can get on with implementation. That's the bottom line.
Advisors should be willing to work onsite with your team and also remotely – whatever minimizes costs and maximizes efficiency. And they should stay on track with your project until it's completed.
Professional IT sourcing advisory looks smart.
We're not talking haute couture, we're talking about knowledge and experience, both broad and deep. Total hands-on familiarity with IT systems and management and also business management. Without that, you'll be advising your advisors about how your enterprise works, what's important and what's extraneous and so on.
That could improve their work with their next client, but it won't help you. It will, however, delay your project, and put you at risk of mistakes based on misunderstanding of your needs. Not a pretty picture.
A smart advisory augments the insight from their comprehensive background with up-to-the-minute understanding of the IT sourcing marketplace. No easy feat in an environment that gives new definition to the concept of fluidity. But that's their job, and the reason you'll be able to rely confidently on their advice.