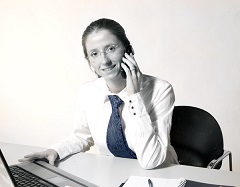 Competitive advantage. There's something that's getting harder to come by, especially for large global companies with highly complex operations. It's no longer simply a matter of developing a better mousetrap, or beating some other company's price, or being the first to establish your firm in a new market. Employing a data center consultant can do more for your company than helping you identify ways to boost and streamline your mainframe or other systems.
The right consultant can help you obtain specific competitive advantages. Here are three that should interest you:
Advantage #1: The inside track.
A data center consultant brings a wealth of information concerning the latest trends, best practices and overall thinking about IT. Certainly, you have a crack team of IT experts in-house. They know your systems inside and out, and they work hard to keep your enterprise on the leading edge when it comes to technology.
But they can't possibly stay abreast of all the current alternatives in delivery mechanisms, let alone the population of providers, new pricing models and all the other details that comprise the rapidly-evolving IT world. That's a full-time job, and they already have their hands full. Much as they'd love to be your sole source of IT news and ideas, they just don't have time.
And it's not only trends, etc. a data center consultant brings to your table. It's the execution know-how. The right consultant has a pertinent, valuable background in IT and business management, so they can immediately relate to your organization, processes, challenges and needs.
But it gets better. Because they can also call upon their experience advising other enterprises with IT arrangements similar to yours, they can more easily identify which solutions, providers, etc. will be your strongest options. They know what works for real, not just on paper, and what looks promising but won't deliver for you. That's competitive advantage, when you can deftly sidestep mistakes and make the most effective decisions.
Advantage #2: Momentum.
No matter how efficient you are, it takes time to learn about, evaluate and choose the IT changes you want to make. If you assign this considerable task to your internal staff, who's going to handle their day-to-day work?
Something will suffer – either your ability to maintain service levels and quality for employees and customers will drop (and you can bet that won't be popular), or it will take nearly forever to complete whatever data center research and findings you need. Either of these could put you at a competitive disadvantage, one that could linger long-term.
But why worry? Employing a data center consultant is the ultimate in multi-tasking. With their help, you can move forward with your data center project, and your own people can stay focused on current business operations. No distractions, faster to implementation without missing a beat. You're sitting pretty on the leading edge.
Advantage #3: Assessment.
You didn't just say "ugh," did you? Assessment is the key to smart decision-making, tedious as it may be. Any top quality data center consultant will insist you conduct an assessment before you do anything else, for your own good. You can't know what you need or how to achieve it if you don't know – really know – what your current picture looks like. Especially the costs, because sometimes they're not obvious.
You should be excited about assessment, because what you learn can give you greater visibility – and, therefore, insight – into your entire enterprise. It's not unusual for the assessment process to uncover lurking problems you can fix to retain your competitive position or opportunities you can put to work to gain some distance on your competitors. Your data consultant will even help you conduct your assessment to ensure it's 100% complete and accurate.
Now you know. Three major competitive advantages are within your grasp, all because you choose to employ a data center consultant.