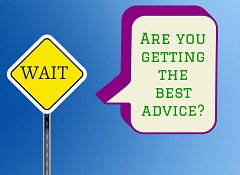 Return on investment is something corporate managers think about all the time. It's how you ensure profitability. Calling in an IT sourcing advisory to help plan your IT future can be a strategically smart move, but how do you know you're getting the best possible return on that investment?
Do proper advance work.
Getting the best advice starts with choosing the best IT sourcing advisory. Everyone is familiar with the GIGO maxim, and while that may be an extreme analogy, you get the idea. Be careful who you select. Finding the one that's right for you depends on several factors:
Knowledge. Education and training are the basics, and every IT sourcing advisory should have a strong educational background. They should also have cutting-edge knowledge of the IT marketplace. It's not easy to stay up-to-date, because solutions keep evolving and players keep emerging, but that's why you need independent advice in the first place.
Experience. How have they applied what they know? Academics are important, but you'll get the best advice from people who've been in your place. Because no matter the subject, there is always a disparity between what you learned in school and what works in the real world. You want consultants who know first-hand what it takes to organize and manage enterprise-wide IT at your level.
You need people who also have solid experience in business management beyond the IT department. Whatever sourcing guidance you're looking for, your decisions will affect every corner of your enterprise because IT is one of the few departments that threads it way throughout your company. Without the ability to see things holistically, you can't get good advice – the very reason large businesses are working hard to demolish internal silos.
Who's giving the advice? You've found what appears to be a great IT sourcing advisory, people with excellent credentials and experience. But are those people the ones who will actually be working on your project?
Large firms are able to serve more clients simultaneously because they hire cadres of up-and-comers and support staff. That can be efficient, but you want advice that comes directly from those in the know. Make sure you'll get the A team, because the junior staff just doesn't have the same insight.
References. This can be far more revealing than knowledge and experience. Taking the time to follow up with client references provided by your candidates enables you to verify that the advisory team you're considering has worked – successfully – with companies similar to yours, on projects similar to yours.
So talk to your peers at those other client companies. Did they get the results they wanted? What was their experience with the consulting process itself? Was the work handled on time, on budget, with aplomb? Do your own networking, too. Ask around among your personal contacts in the industry to get another perspective.
Meet with them before you decide.
Capabilities and reputation are crucial, but more esoteric considerations such as working style and your company's internal culture help determine all-around fit. Look them in the eye and ask about their philosophical approach to your project – how do they plan to address your project and communicate with you?
And ask about their financial approach – to their own work as well as to the cost of solutions they recommend. Your goal is results as defined by you, so ask if they offer performance-based fees..
At some point you have to take it on faith that you're getting sound advice. Be clear about your goals to set the stage for a successful advisory, and keep an open mind. With the rate at which IT is changing, the "best" advice may be something that surprises you.