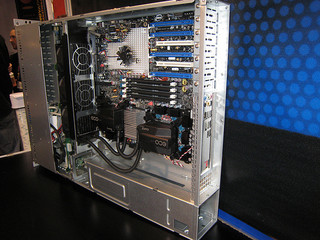 If cooling costs are taking a hefty bite out of your data center operations budget, you're not alone. Forrester Research says power and cooling typically represent 70% to 80% of data center expense. That's one reason a growing number of companies are turning to outsourcing. Saving money on cooling alone doesn't necessarily justify a major transformation, but it's just one of the ways you can save with data center outsourcing.
How much data center outsourcing can save your organization on cooling depends on your current status. Upgrades to improve or increase use of existing cooling capacity might be all you need, if you have data center space to accommodate that solution. Adding capacity to under-used data centers can increase cooling capacity – again, a potentially useful solution if space allows. And adding "containerized" modules can boost cooling capacity.
Some of these options can also help lower your total cost of ownership. Ultimately, however, your growing need could overtake added capacity, bringing you back to the original question: is data center outsourcing a better alternative?
Financials aren't the only consideration.
Opportunity costs vary for every enterprise. Could you do better – functionally or financially -- by directing resources now spent on cooling somewhere else? Outsourcing can relieve pressure on your cash flow, with no big upfront investment for new facilities, equipment, etc.
Aside from direct savings and cash flow considerations, there are a number of strategic factors that can be equally or more important to your data center outsourcing decision. Some of these factors are intangible and distinctly different from one company to another:
Facilities management.
Life expectancy of existing infrastructure.
Expertise.
Compliance issues.
Corporate culture.
Your comfort level sharing space.
Existing on contracts.
Short- and long-term corporate business goals.
It's expensive to build and manage data centers, and costs are rising, right along with the volume and complexity of your data and accessibility needs. Outsourcing can help you save by:
Eliminating upfront capital investment for physical facilities, equipment and all the trimmings. That includes costs associated with initial planning, design, property acquisition and construction, whether you're building an entirely new facility or expanding an existing data center.
Reducing energy usage, especially for cooling.
Eliminating day-to-day operations, maintenance and support work. And rent, if you don't actually own the facility.
Reducing or eliminating personnel and training costs. You can save money by reducing the size of your internal IT contingent or redeploy your existing team in more strategic ways.
Outsourcing not only frees up people, it frees up data center space you can use for other enterprise activities. Or you can reduce the size of your physical footprint.
Collocation has been shown to save significantly compared to building and maintaining your own data centers. Cloud-based solutions are rapidly gaining popularity, too, as newer technologies and protocols alleviate concerns about security. Either way, there's no need to worry about the high cost of cooling, because that ball is now in your provider's court.
Yes, you have merely offloaded the problem, and they will surely pass the cost along to you. But as with all aspects of outsourcing, you benefit substantially from economies of scale Colocation cheaper due to economies of scale and your provider's greater negotiating power.
And while you're saving on cooling costs and in all those other ways, you're also improving your overall IT performance and availability. You have all the latest technology right at your fingertips, thanks to your provider's investment, along with human and other resources you might not otherwise have access to.
You gain greater peace of mind, knowing you're meeting compliance requirements and your enterprise is well-positioned to recover as quickly and painlessly as possible from limited glitches or full-scale disaster. You've automated the mundane and culled functions that are necessary but not mission-critical, making your organization more agile, more productive and more responsive to customers. That's pretty cool.
photo credit: GravityNoob via photopin cc