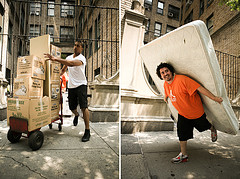 You know that a sourcing advisor can help you find the right provider for an IT function such as data center operations. But that's just part of the picture. If you only need assistance with one specific aspect of your IT transformation, they're there for you. But a data center sourcing advisor is really a full-service resource.
There are myriad ways a data center sourcing advisor can smooth your path to the future.
Here are five:
1. They open their playbook.
A data center sourcing advisor offers coaching at its finest, from people with the cutting-edge knowledge and understanding you need to make the most effective decisions. They have extensive industry- and IT-specific operations experience, and they're up-to-the-minute familiar with IT trends, best practices, emerging technical innovations and the evolving provider marketplace.
You get insightful analysis plus tips and recommendations, all tailored specifically to achieve your company's goals.
2. They can pull you back from the brink of costly mistakes.
There are a surprising number of ways to step off-track when considering data center alternatives. You could wind up with the wrong solution or missed opportunities. With the speed at which the marketplace is changing, it'll ease your mind to get help from people who know what they're doing.
A sourcing advisor can help you evaluate your situation, recognize the most effective solution options and avoid common contractual pitfalls.
3. They give you a fresh look inside your operation.
A good sourcing advisor is fully experienced but entirely unbiased. They won't try to sell you pre-conceived formulas or personal preferences. Instead, they'll work to help you achieve your goals, because their success depends on yours. Look for a data center sourcing advisor whose fees are based on results, not just the time they spend with you.
4. And speaking of time . . .
You can stay focused while your sourcing advisor does most of the heavy lifting for you. You won't lose control -- it's your project and your company -- but allowing them to do what they do best can bring you the full advantages of their experience and expertise.
You can arrive at conclusions in a shorter timeframe, so you can move on to the next steps sooner, whatever they turn out to be. You'll be better prepared for a nearly-seamless transition, with fewest delays or diversions – a transition that encourages acceptance and enthusiasm to embrace change. Faster implementation and a smoother transition ensure your competitive edge remains sharp.
Meanwhile, nothing slips through the cracks for your daily operations and you won't lose valuable momentum.
5. You can save money.
Hiring an outside data center sourcing advisor is a finite commitment, without all the associated costs for hiring, training and retaining in-house staff. Your advisor understands that making a data center move is part of a long-term strategic solution. It has to be carefully constructed to protect your near-term service levels and quality but deliver the flexibility and scalability that you'll need to support future endeavors, too. All within budget.
Getting professional help to find the best solutions – identifying the right provider, the right range of services, at the right price -- can save you money over trying to handle all this yourself. And reducing costs makes your bottom line more comfortable.
Your advisor will help pull it all together with insight and creativity. You might not think of IT as a center for creativity within your organization, but it certainly is, because the days of IT as a back-room support system, sort of like electronic office supplies, are long gone. Understanding lightning-fast changes occurring within the field of IT and adapting them to your global business takes both intelligence and imagination.
A data center sourcing advisor can help you sort through the haystack of options, identifying puzzle pieces that fit snugly together to complete your new data center or an entire technology transformation.
Photo credit: brandon king via Flickr