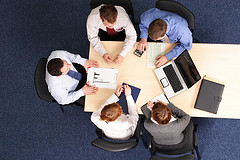 The bigger your company, the more data you have to manage and store. Even for smaller companies, data is rapidly expanding, at an unprecedented rate. That fact of business life is driving some very serious concerns, because growing data center needs naturally generate increased expense. Outsourcing data center operations can be a life-changing investment for your enterprise.
Data centers seem to have taken on a life of their own, demanding more time from your top executives as well as IT staff, and demanding more of your resources. That doesn't mesh with your mandate to streamline and reduce costs.
Of course curbing expenses across the board is vital for every enterprise, no matter who you are, where, or the scope of your work. But you need to control data-related functions as well as costs, without allowing either of them to control you. The "tail wagging the dog" might create an amusing mental picture, but it's a fatal business practice.
Here are five ways outsourcing your data center operations can help you gain control and move closer to achieving your mission-critical goals.
1. Reduced out-of-pocket expenses.
There's no question that outsourcing your data center operations can save money across your operating budget. You would be looking at lower costs for physical space and the associated overhead, equipment maintenance and upgrades and labor. Just the cut in energy usage could have a substantial impact on your power bill. And you'd save on all the other facilities management expenses attached to your data centers.
Outsourcing actually gives you alternatives – from leasing space but retaining total control of data center operations to going virtual with a complete transition into the cloud. What works best for some other company may not be the right choice for you, but you can tailor solutions that fit as comfortably as your favorite sneakers. And that's the answer to lowering your total cost of ownership.
2. Increased efficiency and productivity.
Outsourcing data center operations brings you an expanded team. New expertise. Broader thinking and perhaps more creative approaches to solving problems or uncovering opportunities. Not that your team isn't expert and innovative, but it's rare to find an IT staff that has the time or resources to pursue every new market alternative and develop an in-depth familiarity with every new concept.
Because outsourcing lightens your in-house work load, your retained IT staff can redirect their efforts toward more strategic activities. That may not literally save money, but it certainly boosts your ability to conjure up additional revenue streams or support other business-building initiatives. Earning more is the essential corollary to reducing expenses.
3. Reduced risk.
What could be more costly in the long run than inability to operate, to meet existing agreements and customer expectations? Disasters large and small can result in dislocation, disruption, delay and lost data. Knowing you're best protected if something should go wrong is the ultimate in savings.
You needn't worry about more straightforward security breaches, either, because outsourcing data center operations can actually help strengthen your governance policies and user standards to ensure protection of highly-sensitive internal or customer data.
4. Get the best tools for the job without blowing your capital budget.
Not only can you reduce operations costs, you can eliminate the need to purchase new equipment, upgrades, etc. Instead of hoarding precious capital to cover these large expenditures, you can conserve it, or redirect funds toward something with greater long-term value. Think of it as financial future-proofing -- savings that come from keeping your options open.
5. An expanding marketplace.
Simple supply and demand says that the more choices you have, the more likely you are to negotiate a cost-effective solution that matches your needs precisely. And when it comes to outsourcing data center operations, the marketplace is growing lightning-fast.
Outsourcing data center operations can bring you greater peace of mind – something all too scarce in today's volatile business environment.
Photo credit: 1000Ponce via Flickr