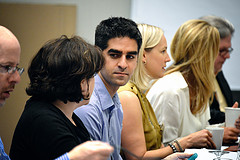 The strategic and financial benefits associated with outsourcing data center operations can be substantial and wide-ranging. Which of these benefits are most attractive for your company depends on your current situation, your size and structure and your strategy for the future.
You can package outsourcing data center services just about any way you want, to devise a custom-tailored solution that suits you now and positions you to take best advantage of emerging technology opportunities.
Here are just three outsourcing data center advantages you should consider:
1. Reduced costs.
Without a doubt, this is everyone's favorite benefit -- the first thing that comes to mind when you think of outsourcing. Cost savings have proven to be so substantial that companies of all types and sizes are adopting this alternative as the "new normal" for IT operations.
Savings aren't just about specific cost reductions, but the broader issue of value. Total cost of ownership, intangibles such as greater opportunity and flexibility, are all line items on your strategic financial ledger.
2. Greater choice.
Burger King may have started the "have it your way" revolution, but savvy business executives understand that this policy now drives business success. It's affecting you at both ends. You have to provide ever-more-customized products and services to meet external customer expectations, but you also need the ability to deliver tailored services to your internal departments to ensure top productivity and results.
That means your outsourcing data center provider has to offer the right range of services at the right cost to meet your unique needs. With a growing number of players in this marketplace, your choices continue to expand whether you're looking for wholesale outsourcing or prefer to choose selective services. Customization and choice extend to pricing models and payment plans, too.
The complexities of delivered services, along with increasing options, means negotiating the strongest service level agreements is crucial to success. How you craft SLAs – how you define performance levels, whether you add incentives or research and development activities, etc. – can ultimately benefit more than just your data center infrastructure and management.
More choice means greater flexibility and more opportunities.
3. Help is available.
Though not as quantifiable as cost savings, obtaining outside help may be the biggest benefit of all. Teaming up with a professional consultant to evaluate outsourcing data center service and sourcing options enables you to establish the strongest, most strategic technology plan based on your long-term corporate plans and nearer-term objectives.
You can be more competitive, profitable, innovative and service-oriented. And you'll be able to use your resources in new, far more productive ways.
Recoup money now being spent on ongoing operating expenses and capital investment. Recapture funds now paying for the hidden costs of down time, less-than-optimum productivity and generalized inability to expand services or increase quality.
Redirect those funds toward research and development that gets to market faster and starts generating additional revenue soonest, helping you stay ahead of the competition with new product introductions. Or redirect those funds toward vertical or horizontal market expansion.
Outsourcing data center operations strategically strengthens your ability to build lasting customer relationships, because you can reliably meet and even exceed their service expectations. And as you move forward your IT consultant can remain a collaborative working partner, helping you identify and incorporate new opportunities to save or grow revenue as they emerge.
Photo Credit: Dell Photos