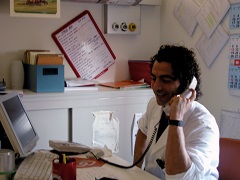 IT sourcing advisors come in all shapes and sizes. Not only the individual people, we're talking about their firms. From a single consultant to huge, big-name companies, each offers a somewhat different range of services, different professional background and different approach to advising you.
Nonetheless, there are four crucial tactics all IT sourcing advisors should use.
#1: Comprehensive, fully-tailored assessment process.
Every step of your project, and every detail, should be all about your enterprise, whether you're looking for advice on a very specific question or help in transforming your company's entire IT environment.
A holistic approach ensures you and your advisors will examine all pertinent factors, including your business goals, your immediate and long-term needs, your time frame and less obvious issues such as corporate culture. That process begins with assessing your current situation – both functional status and associated costs.
IT sourcing advisors should use your existing data as a starting point, to save time and avoid duplication of effort. Often not much additional will be needed, but they'll probe more deeply to make certain your assessment includes all the tangible and intangible costs relevant to your project scope.
They'll help you draw up a baseline picture, so you'll have a reliable, solid foundation from which to make business decisions about potential IT changes and priorities. This step is critical. If it's incomplete or inaccurate, your conclusions, the advice you get and your resulting decisions will be flawed, too.
#2: Using the RFP process to build a better mousetrap.
In spite of all the professional expertise and resources IT sourcing advisors should bring to your project, you want to get all the expert input you can, not simply find the cheapest provider for a pre-ordained solution. Savvy sourcing consultants help you craft an RFP that's open-ended, to elicit innovative thinking from potential providers.
Right from the start, you're making them a part of your solution, rather than simply think of providers as a service contractor. And isn't that really your ultimate goal when considering outsourcing? You're looking for a long-term relationship, and you'll get the most productive relationship from a working partner that can be a technical and creative resource for your enterprise.
#3: Superior customer service.
Sounds obvious, doesn't it? But consider this: who's doing the work on your behalf? You've done your due diligence, selecting IT sourcing advisors you believe are best suited for your company and project. The least you should expect is to work with the person or team you selected, not a substitute that may not have the same skills or level of expertise.
Even something as seemingly esoteric as personal fit can be surprisingly important to your advisor's ability to provide excellent, customized service.
IT sourcing advisors should be willing to work onsite with your key people when necessary, because working face to face and seeing your enterprise first-hand helps your advisors work more closely and insightfully with you. On the other hand, they should work remotely as much as possible, to keep travel and related costs to a minimum and shorten your project's completion time.
#4: Performance-based pricing.
When it comes to advice, either it's valuable or it is not. And even the largest enterprise has a budget and a CFO with a sharp pencil. IT sourcing advisors who understand that cost is always important, know you'd rather pay for results than some accumulation of man-hours or even a flat fee. With performance-based pricing, you can be sure you'll get what you're paying for, because you'll only pay for value received – results.
If you're looking for IT sourcing advisors or expect to find yourself in that position soon, keep these four crucial tactics in mind as you research your options. You'll discover that not all advisors actually use these tactics, but now you know why they're so important.